Regulatory Network
Click here to view ALL Interactions
Show explanation of labels: Direct, Indirect, Confirmed, Unconfirmed
Explanation of Labels: Direct, Indirect, Confirmed, Unconfirmed
As more is discovered about how TFs function, it is increasingly recognized that they act as part of complex networks. Within these networks, TFs often regulate other TFs, forming "branched" networks. TFs also control the expression of other non-TF-encoding genes directly participating in cell differentiation and responses to biotic or abiotic stimuli. A single TF may regulate, directly or indirectly, hundreds of genes. We define here as a direct target of a TF a gene that is directly recognized by the TF, for example, through binding to its cis-regulatory elements, and that may result in the activation or repression of the gene. For example, T1 is a direct target of TF1, and T2 is an indirect target of TF1 as it requires the prior activation (or repression) of TF2 (Fig. 3). While there are many ways in which the direct interaction of a TF to a target gene can be demonstrated, two approaches allow the simultaneous identification of many direct targets for a given TF. The first method is based on chromatin immunoprecipitation (ChIP) followed by hybridization of microarrays (chip), thus called ChIP-chip (e.g. Lee et al., 2002). The second method is based on the posttranscriptional control of a TF fused to the hormone-binding domain of the glucocorticoid receptor (GR), followed by induction with a steroid hormone (e.g. dexamethasone [DEX]) in the absence and presence of protein synthesis inhibitors, such as cycloheximide (CHX). Fusion of TFs to the GR domain has been demonstrated to cause the fusion protein to be retained in the cytoplasm in the absence of a steroid hormone (Aoyama and Chua, 1997). Upon application of the synthetic hormone DEX, the protein moves into the nucleus and activates/represses transcription. Direct targets are those that are either induced or repressed by a given TF-GR upon DEX induction, even in the presence of the translation inhibitor CHX. For example, in Figure 3, TF1-GR and DEX would activate T1, TF2, and T2, but in the presence of CHX only T1 and TF2 would remain activated. While the ChIP-chip method (Wang et al., 2002) has been used in only a few instances to identify direct targets for Arabidopsis TFs, TF-GR fusions have proven to be very useful in the identification of many TF direct targets (Sablowski and Meyerowitz, 1998; Zik and Irish, 2003a; William et al., 2004).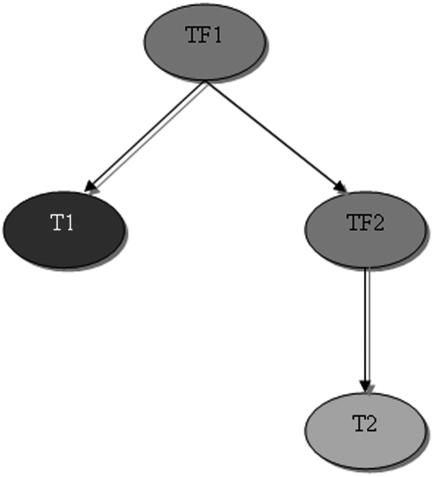 Figure 3.
T1 and TF2 are direct targets of TF1. T2 is an indirect target of TF1. T1 is a direct target of TF1, and T2 is an indirect target of TF1, as it requires the prior activation (or repression) of TF2.
Based on the analysis of the published literature, we have defined two groups of direct targets: confirmed and unconfirmed. A confirmed direct target has been defined as a gene that responds to a given TF according to the following criteria. (1) The TF binds directly to the regulatory region of the target gene, as shown by electrophoretic mobility shift assay, yeast one-hybrid analysis, and/or ChIP; or (2) the TF directly regulates the target gene, based on use of transgenic plants expressing an inducible TF-GR fusion protein, and the effect of CHX on the DEX activated/repressed genes; and (3) in vivo evidence of regulation showing expression of the target gene is affected by either loss-of-function mutations in the TF or ectopic expression of that TF in the plant.
An unconfirmed direct target is one that has been suggested to be a direct target of a given TF by one of the approaches described above.
Hide Explanation
Related Publication
Palaniswamy, S.K., James, S., Sun, H., Lamb, R.S., Davuluri, R.V., Grotewold, E. (2006)
AGRIS and AtRegNet: A platform to link cis-regulatory elements and transcription factors into regulatory networks.
Plant Physiology, 140:818-29
PMID 16524982
Special thanks to contributer Sarah Percival
RegNet Tutorial

Start typing a TF name, and choose from the auto-complete suggestions
Click "Show Interactions" to visualize interactions involving the selected TF
In the visualization, click a circle representing a TF to show additional information

A table listing related interactions will appear below the visualization

Click "Load more interactions" to load more interactions involving the selected TF
Hover over the help icon in the top-left for more information

Hide Tutorial



TF name:

Click a node to show a table of related interactions